‭(850) 629-9313‬
info@endlessbrain.org
SPECIAL NEEDS ENDLESSBRAIN PROGRAMS
Discover your talent, enjoy the endless musical fun!
Registration
REGISTER FOR 2019 SUMMER MUSIC CAMP (JUNE 3RD-AUG 9TH) $189/WEEK
EndlessBrain, 
Musical Learning
We are working hard to create many musical learning opportunities for special needs children in our communities promoting their talents, targeting self-esteem, acceptance and inclusion.  EndlessBrain  is not a therapeutic approach, rather we create opportunities to capture our children's interests and attention making learning most meaningful and fun.  EndlessBrain facilitates this learning in a dynamic way using a variety of evidence based effective teaching methods.    Through mindfulness, musical, theatrical, and artistic activities we found these learning opportunities to be most effective not only when it comes to skills acquisitions but to connect with our hearts and bodies.  Discovering self-awareness and consciousness of our own power is something we want to be recognized by children who participate in EndlessBrain activities.  We focus on exploring their talents and creating a specific path for self-discovery to occur in the most natural way.   We would like children to find EndlessBrain to be a safe and friendly space, where they feel fully accepted and comfortable practicing their music and fun activities, a place they can be excited to participate in and enjoy their friends,  connecting with each other in endless meaningful ways.
Special needs individuals often have musical and artistic tendencies. Our mission is to help special needs children explore these creative interests, with the goal of also improving their essential social, behavior, cognitive, and communication skills.  It is known that children on the autism spectrum, ADHD, and those with other neurological or physical disorders often have difficulty calming themselves and managing their emotions.  Guiding children to explore their own musical abilities, and playing with their creativity  they can use this as a way to teach themselves self-calming mechanisms and finding their confidence power for life.
"We want to inspire and promote individuals diagnosed with autism and related disorders discover their music and artistic abilities, while helping them establish a stronger connection to their daily lives, building self-esteem. We will help facilitate musical experiences and opportunities, especially ones that are not covered by insurance or public education funding. We hope for our children to have an equal exposure to music activities and events, with meaningful opportunities to discover their talents, building a strong community with dignity, acceptance and inclusion" – EndlessBrain founder.
EndlessBrain, Inc. is a nonprofit 501 C, founded by a mother of a child diagnosed with autism, musician, with a masters degree in Applied Behavior Analysis, who felt an urgent need to create an opportunity where all special needs children can receive access to different musical activities, just like her daughter did, practicing inclusion and promoting skills learning.  EndlessBrain takes pride of their board of directors, who also donate their time and dedication to this noble mission.  All our Board of directors are recognized musicians holding the following educational degrees: Licensed Psychologist, Cognitive Trainer, Behavior Analysts, Behavior Specialist, Computer Engineer, Certified Teacher, and Social Worker who are passionate about helping special needs children discover their musical abilities, promoting inclusion, and spreading awareness.
About us
Video:  "Children of EndlessBrain become recording artist" -Naples Daily News-
Inspired by daughter, woman starts music program for special-needs children. "It's for you that I am strong" –Naples Daily News–
As seen on TV "A life changing Summer Music Camp"
Watch the full NBC segment on our featured Summer Music Camp for special needs children here.
"Happy Drummers" Drum along Music Playgroup
Ages 5-16 all abilities. This free musical learning program starts on Septermber 10th for 9 weeks.  This group is scheduled to meet during that time every Tuesday from 6:15pm-7:00pm at Emmanuel Lutheran Church (777 Mooring Line drive, Naples). Children learn fun percussion patterns, exploring the sound of African drumming, singing popular songs with their friends, promoting communication, social, and behavioral skills with the guidance of instructors.  9 week program. No cost. Instruments are provided. Space is limited.  Concludes with a Recital to the public at Collier county public library Headquarters Sugden Theater.
All EndlessBrain programs are free of cost. Musical Learning programs are designed for special needs children and their siblings, while providing special accommodations, promoting musical abilities, targeting inclusion, self-esteem, and the learning of essential skills.

Drums are provide to all students.  Space is limited, please email info@endlessbrain.org to register for the next monthly drum class.  This is a free class no payments are required, donations are welcome.
Video "Happy Drummers" Music progam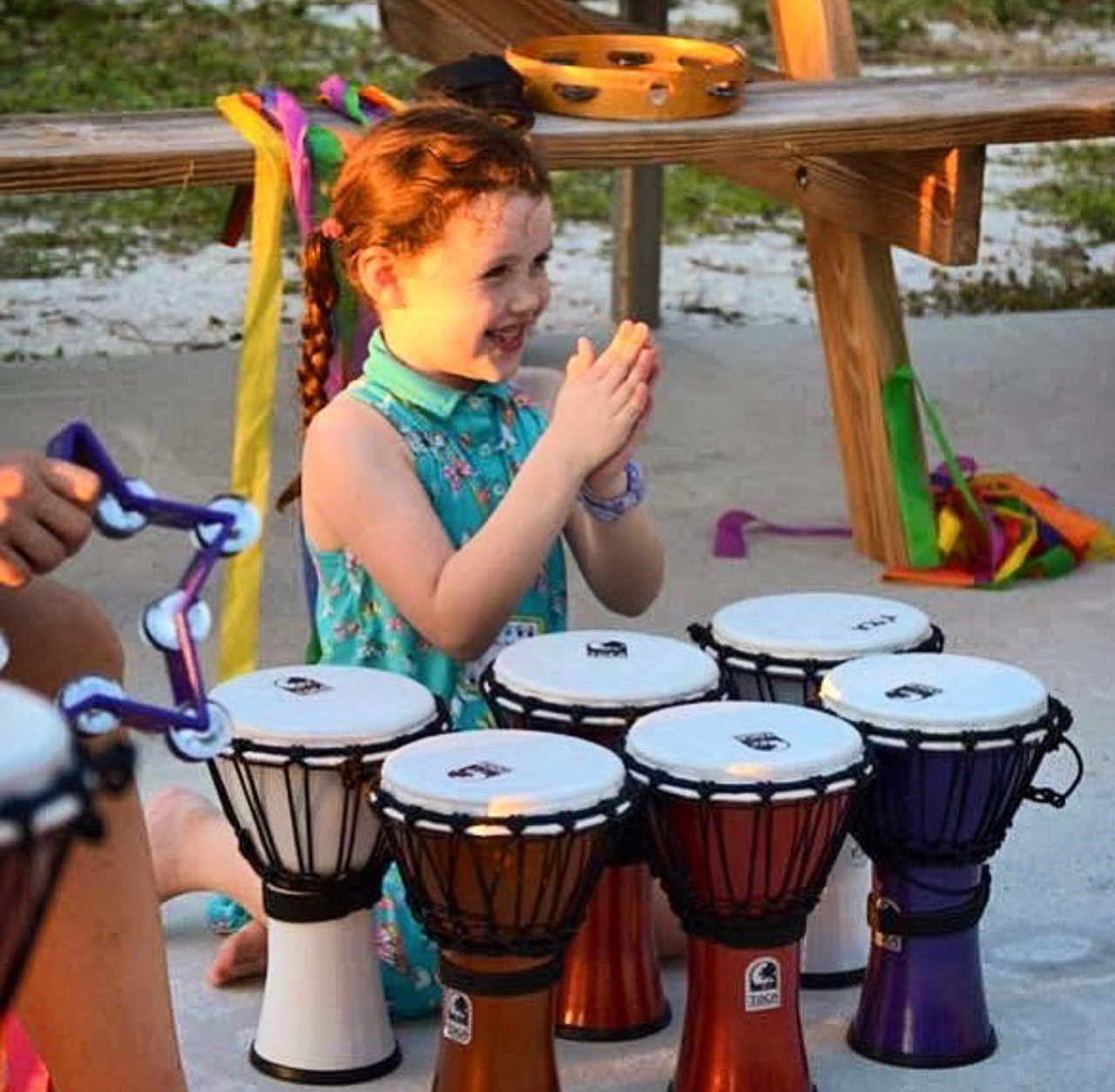 "Singing Birds & Ukulele" Sing and play along Music Playgroup
Ages 5-16 all abilities. This is a FREE weekly workshop. Start on September 10th until November 5th. This group is scheduled to meet during those dates every Tuesday from 5:15pm-6:00pm at Emmanuel Lutheran church (777 Mooring Line drive, Naples).  This is a fun introductory Ukulele beginners class for first time Ukulele players and enthusiast singers (no experience necessary).  With the guidance of autism-trained instructors and using visual support systems students  learn to play a simple children's songs concluding in a recital performance!  While at this workshop children also engage in group communication such as turn taking, waiting skills, requesting permission and answering to questions from peers and instructors; children have an opportunity to create meaningful relationships with other children their age.  Other skills may be targeted during this workshop: hand eye coordination, fine motor skills, cognitive skills, listening skills, waiting skills, sitting with peers, eye contact and gross motor skills. Parents, therapist and caregivers are asked to stay in the class with their children while session is going. Instruments are provided. Space is very limited, please email info@endlessbrain.org to register for the next Ukulele sing along class. This is a free class no payments are required, donations are welcome. Please visit our Facebook page to enjoy more pictures and videos of previous musical learning groups.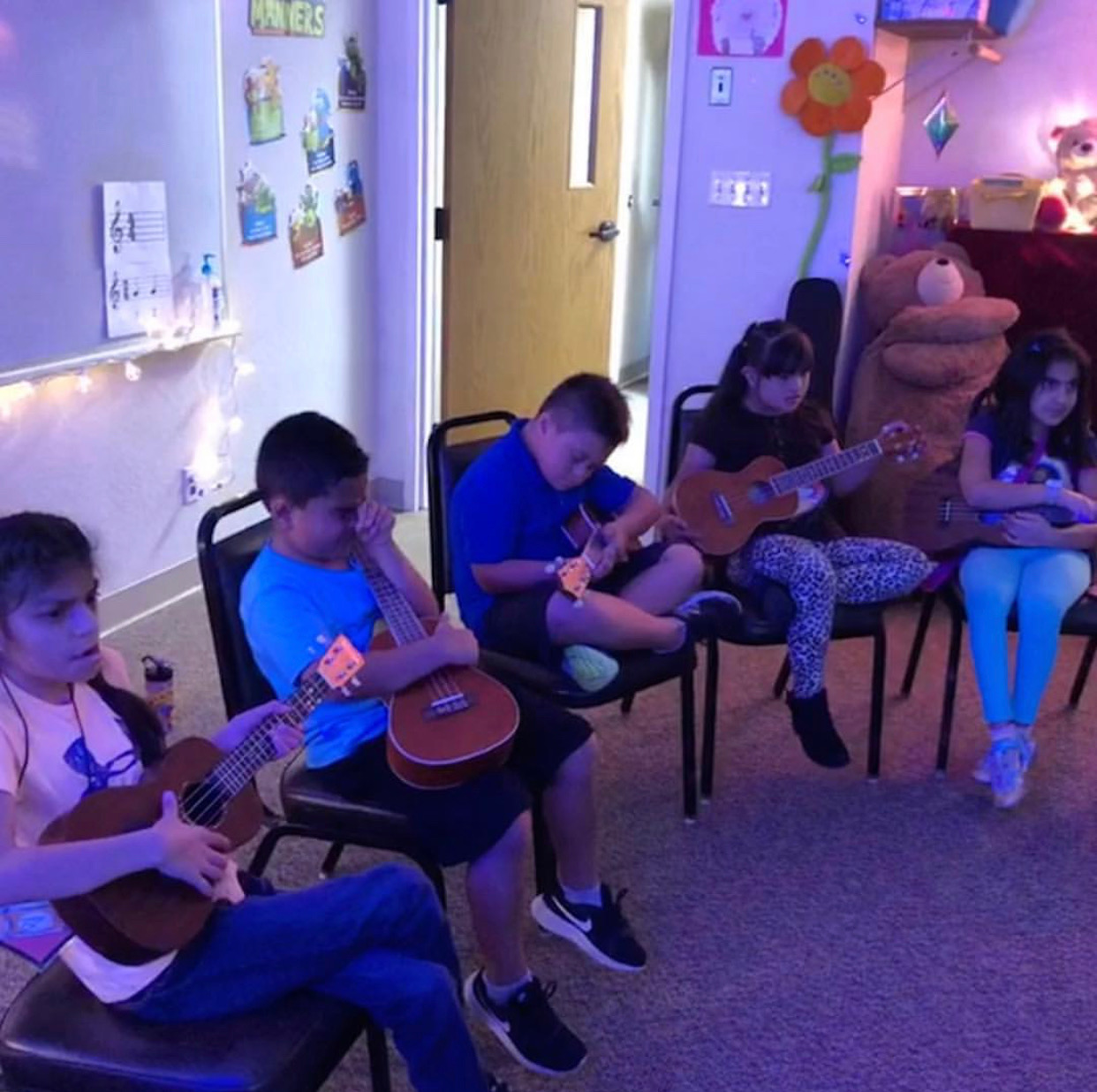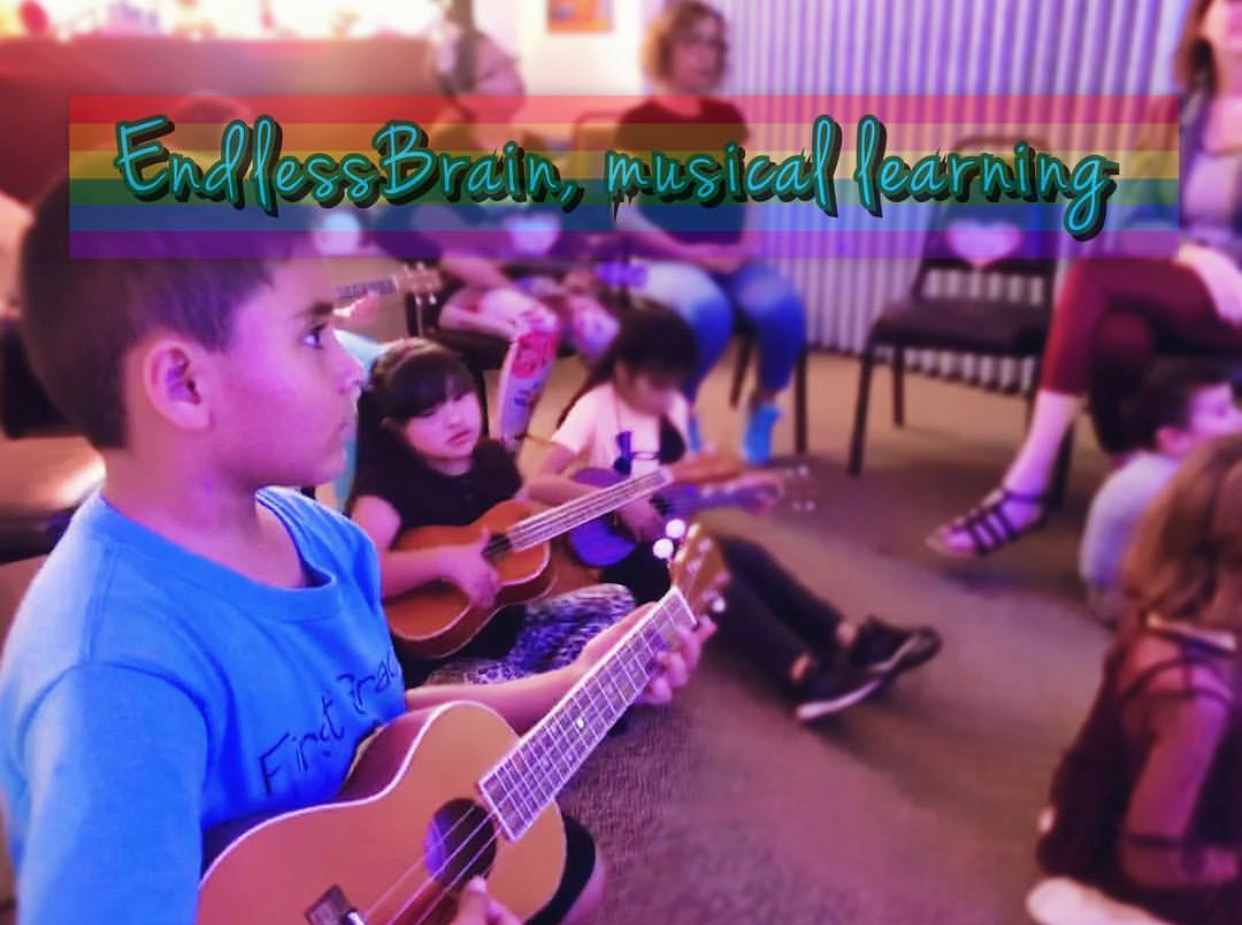 Become a Volunteer
Help children with special needs enjoy musical activities in our community.
Registration form